Split Hi-Wall Air Conditioner
Get the best-in-class air conditioning experience with a wide range of split air conditioners by Daikin. Loaded with amazing features, exceptional cooling performance, and great energy-saving technology, our air conditioners level up the décor of your place wonderfully. Moreover, they come with 10 Years Warranty on Inverter Compressor which means complete peace of mind.
The technology enabled features of the Daikin Air purifiers will leave you content with the quality of air inside your home, the place where you are spending most of your time these days! The state-of-the-art features can efficiently protect you against many disease-causing germs, allergens, and mites. The streamer discharge, active plasma Ion and Electrostatic HEPA Filter gives you protection against many serious illnesses and improves the air quality. Daikin, because you just can't compromise on the health of your family!
Featuring an elegant design and high-end cooling, our Cassette Air Conditioners are the perfect answer to today's cooling needs. Their multi airswing control provides multiple patterns to deliver maximum comfort. They are designed with unique "round" side contour and new LED light location to give your overall décor a nice value addition.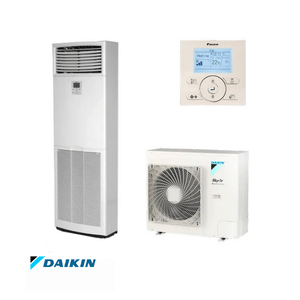 Floor Standing Air Conditioner
Daikin floor standing air conditioners are an ideal for those who wish to turn their places into a heaven. Extremely portable, they can be a perfect solution for cooling the area any time. Now enjoy quiet and efficient cooling without getting into complex air conditioner installation. Some of its salient features of this portable air conditioner in India are filter sign, anti-bacterial filter, durable filter, self-diagnosis functionality and many others.
Explore the most comprehensive range of Ducted air conditioning systems at Daikin. They are perfect for homes, open-plan offices, shops, schools, restaurants and any other big-size spaces that require balanced air distribution around the room. The most practical choice for heating or cooling large air conditioning remains a challenge.
First launched in Japan in 1982, the daikin VRV system has been embraced by the world markets for over three decades. Now, we at daikin introduce the next generation VRV X system to reinforce our industry leadership. The system now offers an enhanced line-up to meet an ever widening variety of needs, while improving energy savings, comfort and ease of installation. The VRV X is the most advanced Airconditioning system in the world and is ideal for large and small spaces.
Daikin's new range of rooftop packaged unit has been developed specifically to suit commercial application and is designed to ensure easy installation. Designed for high ambient application, the unit can continue operating at an outdoor ambient temperature of up to 52℃. These air conditioners are engineered to meet high static and large airflow for wider coverage requirements.
Daikin McQuay fan coil units carry the flexibility of adapting to a wide range of space requirements, installation configurations and usage applications. These units have the versatility to match different interior designs while saving more space. Our FCUs ensure zonal energy saving, better air distribution and different comfort conditions.
With a comprehensive range of chillers, Daikin is poised to power up various mechanical cooling process applications across different industries. Our centrifugal chillers, screw chillers, scroll chillers and air side products are a testament to our unmatched engineering capability. They are an ideal choice for commercial, industrial and institutional HVAC applications. Read More…
Range Of Most Powerful Yet Elegant Air Conditioners
Lossnay & Ventilation Products
Excellent air quality and unbeatable Heat Exchange Efficiency
Mitsubishi Electric Air Curtains are the perfect way to provide your premises with a comfortable, clean and hygienic environment while saving energy with a quiet, efficient and powerful operation.
Excellent air quality and unbeatable Heat Exchange Efficiency
Mitsubishi Electric Ductable AC